Our Mitchell 1 customers have been asking for years about the possibility of booking appointments by technician. Later this week, the long-awaited feature request will be available through Report Pro.
This is a huge improvement to the Mitchell 1 stock calendar. With the update, shops can book appointments by technician.
Service advisors will be able to easily manage a busy workday and ensure technician availability, which helps to improve productivity and leads to shops becoming more efficient.
Since blocks are color-coded by type – appointment, estimate, repair order or invoice – shop staff can quickly view by day, week and month. To reschedule appointments simply drag and drop the color-coded appointment blocks.
For now, the update is only available for Mitchell 1 customers. The Report Pro feature is planned for other shop management systems in the future. To locate the calendar update, simply launch Report Pro, select the Tools tab and from there choose the Advanced Scheduler. The software will notify you of the update once it is available.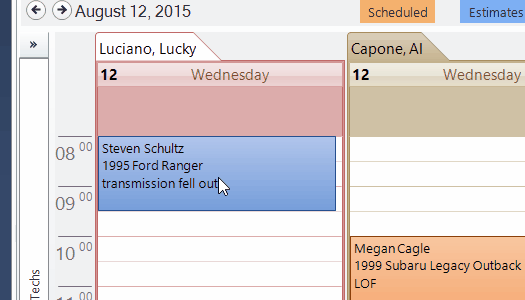 For more information on Report Pro, click here: Report Pro.