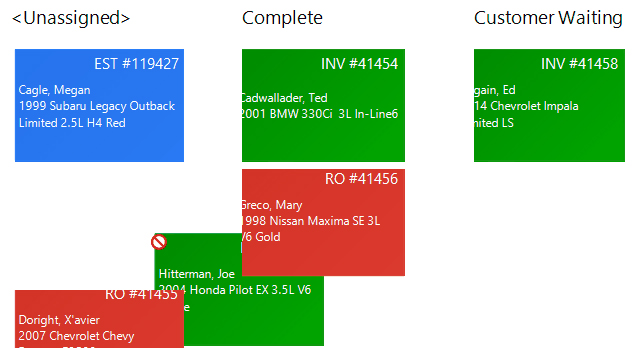 With the latest Report Pro requested feature addition, shops can more easily identify the status of vehicles being serviced.
BOLT ON TECHNOLOGY's latest auto repair software release – which is available for Mitchell 1 customers – uses color-coded easy-to-read blocks showing vehicles that are unassigned, complete, in progress, waiting for parts and orders involving customers who are waiting.
Dubbed the WorkFlow Manager, the Report Pro upgrade takes Mitchell 1's Work In Progress screen and presents it in a much more visual way to enable service advisors and technicians the ability to more efficiently manage their work flow.
The WorkFlow Manager's biggest feature is its ability to quickly and easily change a status by simply dragging and dropping the item to a new category.
In addition, the tool features a Quick Actions function which allows for one-click tasks, including printing an estimate and sending a text message to a customer. Prior to
Quick Actions, these tasks took three or more steps to complete. As future updates are carried out, more Quick Actions will be added.
The WorkFlow Manager upgrade also includes the ability to filter by service writer and filter by technician.
The tool also displays charged hours and features a quick change status drop-down menu, among other advancements.
If the WorkFlow Manager added for Mitchell 1's shop management systems continues operating smoothly, BOLT ON TECHNOLOGY's software development team will look into adding similar functionality as part of Report Pro's integration with other SMS platforms. A date for this possible feature addition has not yet been determined.
Besides the WorkFlow Manager, shops are using Report Pro to help market their business with unique, easily customizable invoices with more than 100 options for customization, including a shop logo and color scheme, social media links and much more. The software solution, as its name suggests, also enables shops to create various reports, technician worksheets and more.
For more information on Report Pro, click here: Report Pro.