myCARFAX consumer app updated with NEW Service Reminders
---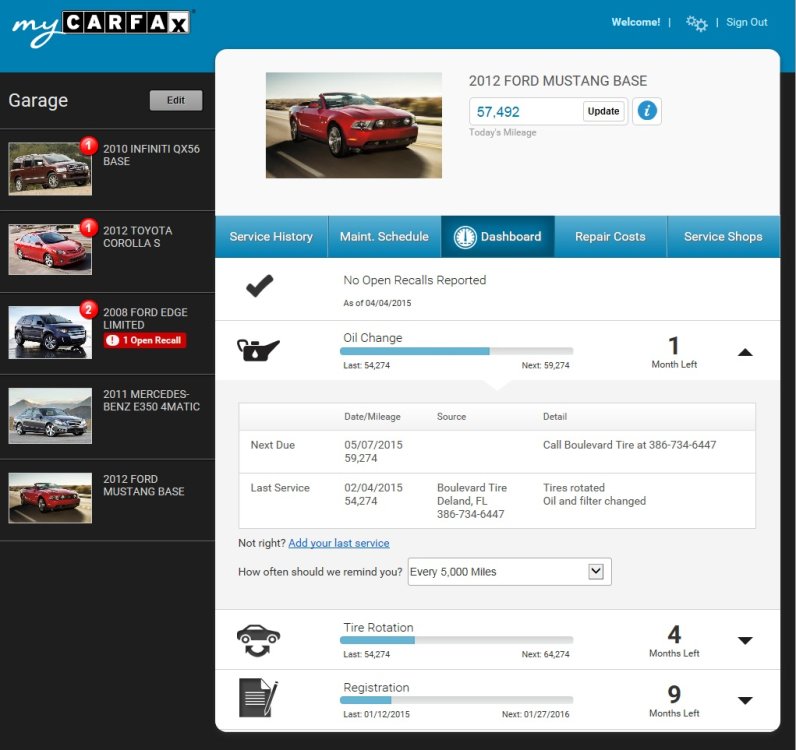 myCARFAX, the free app for consumers, recently released NEW features that help vehicle owners better take care of their car, while consistently promoting their Favorite Shop as the recommended service center.
For consumers - myCARFAX monitors and sends out service reminders via email and mobile push notifications when any of your cars are due for:
Oil changes




Tire rotations




Safety inspection ** NEW




Emission inspection ** NEW



Consumers love the myCARFAX app because it helps them keep track of their service history, stay up to date on any open recalls, track their registration information, and find out what services are coming due.
Want to test drive the app? Go to mycarfax.com - login using email demo AT mycarfax.com and password: "Password" (capital P).
The app is available on the web, Apple App Store for iOS, and Google Play for Android).
As a shop owner - when we recommend any service - we want to promote YOUR shop.
For example:
myCARFAX® Service Reminders
When you're set as a customers' Favorite Shop, we recommend YOUR SHOP in our reminders for Oil Changes, Tire Rotations, Safety and Emissions inspections.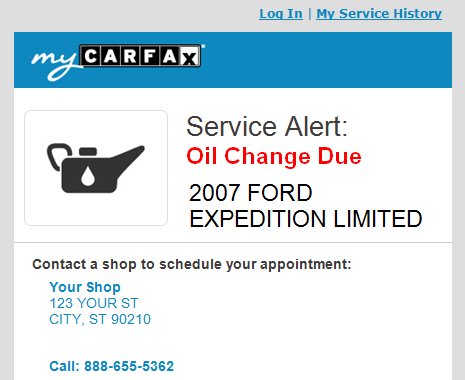 When customers are looking for a service shop – we highlight your shop. Search for participating shops

here

.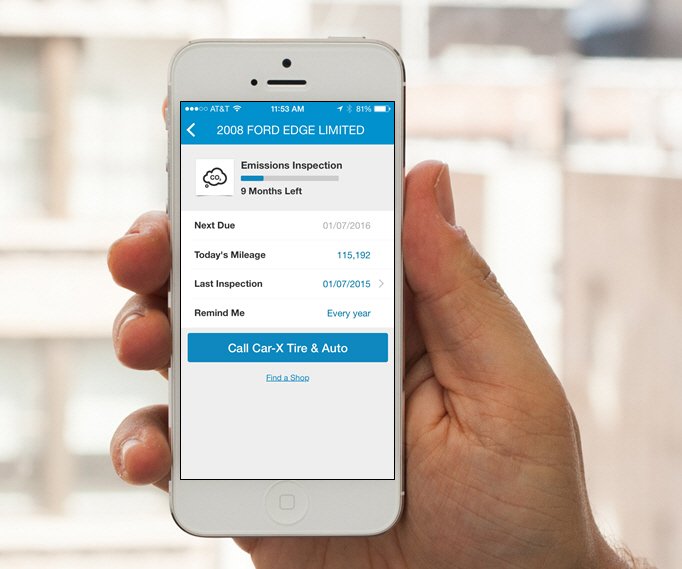 Notice how the call to action in the phone is "Call ..."? We're constantly putting your shop's name in front of the user, with the call to action of "Call and make an appointment!"
The myCARFAX app is one of a suite of FREE benefits that you could be taking advantage of - built right into more than 57 shop management systems. I encourage you to download the app and try it out for yourself.
I'm happy to answer any questions about the myCARFAX Service Shop program and would love to hear feedback on your experiences with the app.
-
Thomas Sands
Partner Development Manager, myCARFAX Service Shops
Centreville, VA
About myCARFAX®
Every day, more than 34,000 dealers and aftermarket shops partner with myCARFAX to help their service business. Join today at NO COST to get access to myCARFAX® shop tools including CARFAX QuickVIN™, Service History Check™, PLUS a free listing in the new myCARFAX® consumer app (iOS, Android, myCARFAX.com). Call 888.655.5362 or visit www.mycarfaxserviceshop.com to enroll.