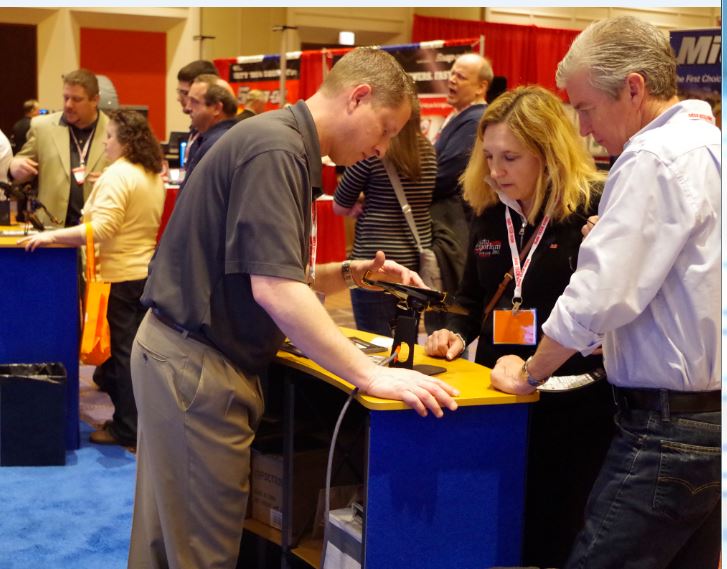 With thousands of exhibitors and countless products, it's important to know which questions to ask AAPEX Show exhibitors.
In my last blog, I suggested that shops consider researching the exhibitors whose products or services align most closely to the shop's main goals and map out a plan to make the most of the limited time available.
Now that you've decided which booths you will be visiting in Las Vegas Nov. 3-6, it's time to think about what questions you might want to ask exhibitors.
With so many booths, education sessions, networking events and so little time, you will want each interaction to count. This handy guide will help you stay focused.
1. Find the correlation
You have determined that exhibitors are worth your time. Be sure to ask questions that allow the exhibitor to explain how their products or services could help your business.
2. Steer clear of questions with yes or no answers
Vague questions, such as "does your product integrate with my shop management system" may yield a response of "yes." In reality, that may not be true.
3. Ask for the "how" behind the exhibitor's offerings
Instead of asking a question that could be open to various interpretations, try rewording the question to ask how the system integrates, for instance. The answer will likely give you more insight and a better sense of whether the product is truly a match for your shop's goals.
4. Show, don't tell
Even better than the "how" of the product or service is seeing it in action. See for yourself the product's attributes, or shortcomings, by asking for a demonstration.
5. Ask the same questions
The only way to truly compare apples to apples when considering similar products offered by competing exhibitors is to ask the same questions of each exhibitor.
6. Don't be afraid to follow up
You asked all of the questions on your checklist. But, something the exhibitor said raised another question, or caused confusion. While it's fresh in your mind – and while the exhibitor is in front of you – ask for clarification.
7. Write it down
Perhaps just as important as asking the right question is remembering the answers. The likelihood of remembering one company or product's attributes over another may be difficult that night in your hotel room and even more so after AAPEX is over. Jot down notes highlighting things that matter to you and your business. A few notes should be enough to jog your memory after the fact.
Stay tuned for more helpful AAPEX Show tips and hints. If you're going to AAPEX Show 2014, we'd love to meet you! Please be sure to stop by booth #2983 to meet the BOLT ON TECHNOLOGY team, learn more about our mobile technology and our automotive software solutions, Mobile Manager Pro and Welcome Station. For more information, visit www.boltontechnology.com, or call 610-400-1019.