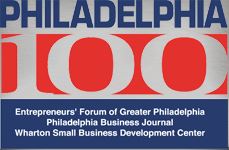 The greater Philadelphia area automotive software solutions developer ranked #36
Not only has BOLT ON TECHNOLOGY remained at the forefront developing innovative add-on solutions powering the nation's independent auto repair shops' ability to automate daily operations, increase efficiency and boost profits, the Downingtown, Pa.-based company has ranked as one of the 2014 fastest-growing, privately-held businesses in the Philadelphia region by the Philadelphia 100®, the Wharton Small Business Development Center, the Entrepreneurs' Forum of Greater Philadelphia and the Philadelphia Business Journal.
The Philadelphia 100 rankings are based on companies' percentage of growth over the last three years, ending in 2013. During that time frame, BOLT ON TECHNOLOGY grew by 187 percent and ranked number 36 of 100, according to official Philadelphia 100 rankings released Thursday night.
In addition to founder and CEO Mike Risich, BOLT ON TECHNOLOGY employed two workers just two years ago and has since grown to employ more than a dozen. The company's software applications serve thousands of independent auto repair shops in the U.S., Canada and Guam. BOLT ON, which operates a software development center in Bucks County, is poised for continued expansion both in its workforce, as well as its more than a dozen software applications, according to Risich.
"This achievement is just the next step in taking our company to another level," Risich said. "I know our team embraces change and has the drive and motivation to continue to better our customers' businesses."
About BOLT ON TECHNOLOGY™
Founded in 2008, BOLT ON TECHNOLOGY was created by entrepreneur Michael Risich, whose vision of digitizing the automotive repair industry has continued to define the company. BOLT ON stays at the forefront of innovation, continuing to revolutionize mobile applications that save auto shops time, money and the need to write out lengthy estimates or vehicle diagnoses. Bolt On Technology has grown to be one of the leading shop management software providers. The company has partnered with some of the largest companies in the business, including Mitchell1, ATI (Automotive Training Institute) and CARFAX.
To learn more about Bolt On Technology, visit BoltOnTechnology.com, see our mobile innovations on YouTube, like us on Facebook, or follow us on Twitter.
About the Philadelphia 100 Program:
The Philadelphia 100 was founded in 1988 by the Entrepreneurs' Forum of Greater Philadelphia, Philadelphia Business Journal, and Wharton Small Business Development Center to publicly identify, recognize, and promote successful companies in the Greater Philadelphia region. Previous participants have told us that participating in the Philadelphia 100 helped them attract new employees, obtain new customers, and raise capital. Past honorees include NovaCare, Forman Mills, ATX, Mothers Work, Diamond Couriers, West Coast Video, Spectacor, Urban Outfitters, and Kremer Laser Eye Center