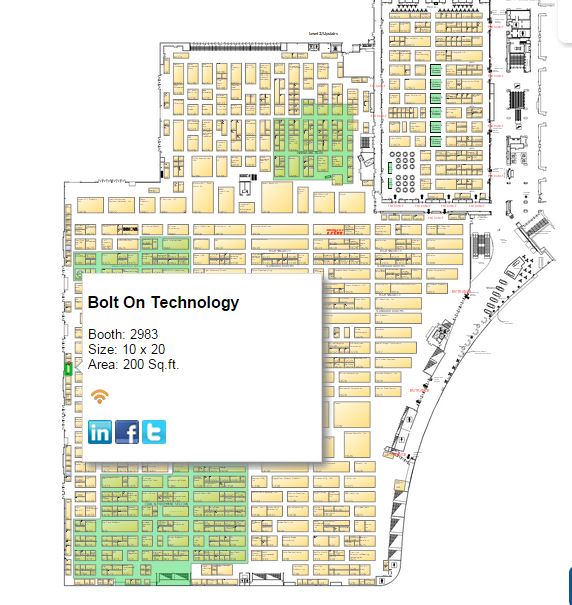 BOLT ON TECHNOLOGY will exhibit at the show, which is set for Nov. 3-6 in Las Vegas.
In a matter of weeks, thousands of exhibitors will fill 1 million square feet of the Sands Expo in Las Vegas, Nevada as part of the Automotive Aftermarket Products Expo (AAPEX).
Businesses, particularly automotive repair shops, have much to gain from the vast educational offerings, as well as the latest and most innovative products and business solutions on display Nov. 3-6.
How can you see and do it all?
Simply put: You can't.
But, with this handy checklist of tips, you can discover the products, services and other offerings that are most important to your shop.
1. Do your homework
Use the weeks leading up to AAPEX to familiarize yourself with the various sessions available and get a jumpstart on planning your days.
2. Define your objective
Think about why you registered for AAPEX. Try to pinpoint the top goals you would like to achieve and consider the service providers and/or products that could help you attain success.
3. Research exhibitors who can make your goals reality
Say, for instance, you'd like your repair shop to increase its average repair order, automate day-to-day functions and improve customer confidence. Besides BOLT ON TECHNOLOGY, you may want to research which other shop management system providers could help you reach your goals. To get started, click here to search the AAPEX Show Website by brand, by product, or by exhibitor. You can view a company's product information, contact methods, show location and more.
4. Review the lay of the AAPEX land
Once you have an idea of which educational sessions you would like to attend and which exhibitors you would like to visit, review the floor plan.
5. Plot out your AAPEX Show plan
While viewing the floor plan, attendees can look up exhibitors they would like to visit, see their location and booth number on the map, as well as their booth size. The floor plan helps make it easier to visualize where you want to throughout the course of the show.
Stay tuned for more helpful AAPEX Show tips and hints. If you're going to AAPEX Show 2014, we'd love to meet you! Please be sure to stop by booth #2983 to meet the BOLT ON TECHNOLOGY team, learn more about our mobile technology and our automotive software solutions, Mobile Manager Pro and Welcome Station. For more information, visit www.boltontechnology.com, or call 610-400-1019.