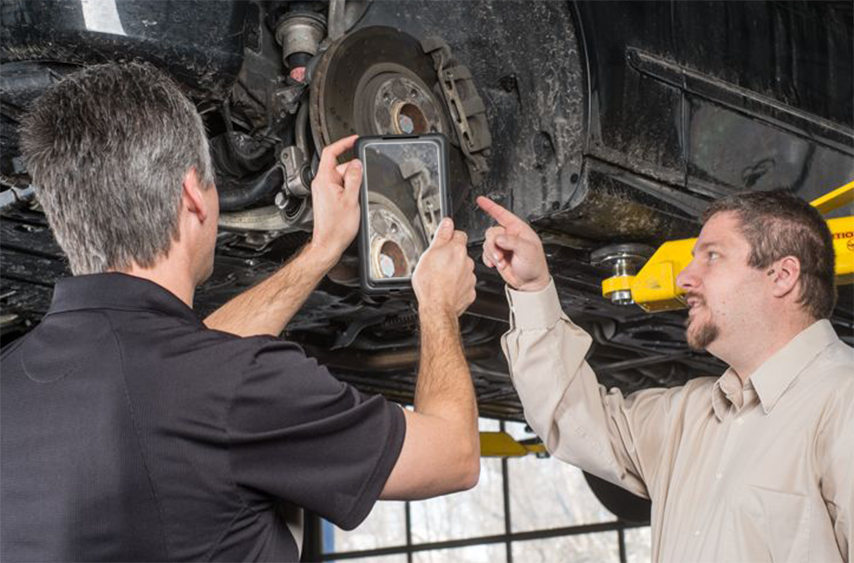 Our Mobile Manager Pro digital multi-point inspection tool will be discussed during the upcoming NACE/CARS Expo & Conference in Detroit, Michigan. The auto repair software will be referenced during our partner, Mitchell 1's 90-minute training session, "Shop Management Unleashed."
Tim McDonnell, Mitchell 1's National Training Manager will lead the training on July 22 from 1 p.m. to 2:30 p.m. at the COBO Center during the annual event, which runs from July 21 through July 25.
Focused on optimizing repair shop efficiency, Tim will provide tips for Manager SE users to improve profit-generating potential and highlight solutions to maximize efficiency. Part of the discussion will center on how Mobile Manager Pro extends the shop management system into your shop's bays and beyond.
Service advisors can use the tablet-powered, fully wireless auto repair software to meet a customer at their vehicle, scan the VIN or decode the license plate. From there, vehicle make, model, year and more auto-populates fields, saving time and guaranteeing accuracy of information.
The software fully integrates with the Mitchell 1 platform, meaning that any data input through the tablet transmits automatically into your shop management system, offering real-time two-way communication and eliminating double entry of information.
Shops that use Mobile Manager Pro have successfully built a better foundation of customer trust, particularly through the ability to take and text vehicle condition photos, along with color-coded multi-point inspections.
In addition to discussing our digital multi-point inspection tool, Tim will provide insight on configuring a work in progress screen; automating SMS functions; sharing repair order tips; and more. For more information on the topics Tim will discuss, click here.
If you go
Admission to the Mitchell 1 discussion is included with a CARS registration. The NACE/CARS Expo & Conference will be held July 21-25 at the COBO Center in Detroit, Michigan. The show features more mechanical specialty and technical training than in years past. For more information and to register, click here: NACE CARS.