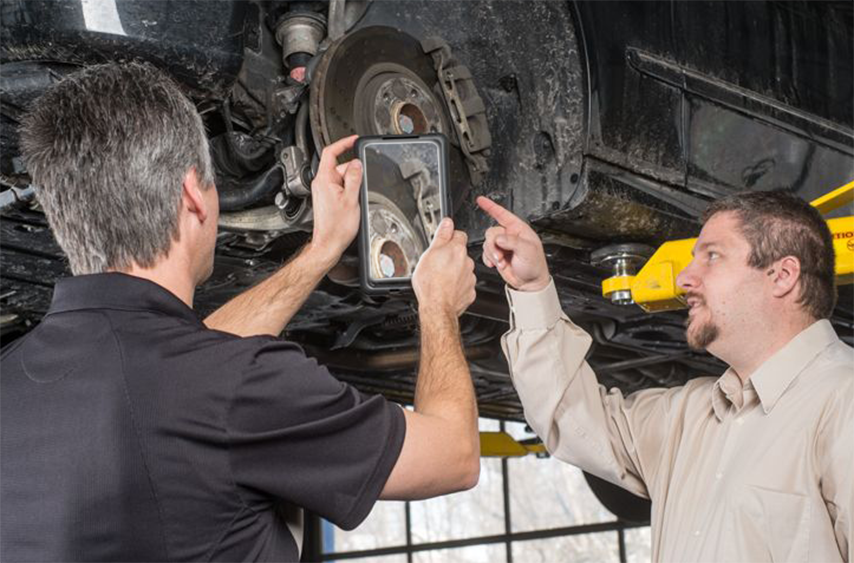 I never set out to develop software add-on solutions that would revolutionize the auto repair industry.
All of that happened by accident.
Prior to founding BOLT ON TECHNOLOGY, I worked as a Microsoft developer and taught evening classes at a school district near my suburban Philadelphia home. It was in the classes that I met an auto repair shop owner and his wife, who asked me to help with their shop's software programs.
When I saw how out-of-date the system was, a light went off in my head. It was kismet.
From then on, my life's goal was in view. I knew I had the passion and know-how to create add-on solutions that would help to automate tedious day-to-day functions at some of the nation's 275,000 independent auto repair shops.
My end goal, while always in sight, was not something that came easy, or right away. A father of three young children, I continued to work my full-time job while spending sleepless nights on what would become BOLT ON TECHNOLOGY.
My wife, Christina, who often saw me hunched over our laptop computer in the wee hours, used to joke that I was having an affair – and her name was Dell.
I hustled hard, because, more than the lack of sleep and time away from my family, I wanted to build this company. I knew that my time was an investment toward a larger achievement: Helping shops to increase efficiency, boost productivity and drive up profits through automation.
In 2009, BOLT ON TECHNOLOGY LLC was formed. Two years later, I hired my first employee.
About that same time, I moved my company's operations to a space adjacent to an auto repair shop. The move was strategic – what better place to test my company's add-on software solutions than a repair shop that would put the software to use each and every day?
Fast forward a few years and BOLT ON TECHNOLOGY has developed and sold thousands of licenses for our suite of automotive software solutions throughout the U.S., South America, Canada and Guam. My team of software developers is constantly working to improve upon our existing solutions and create even more modules aimed at making shop owners' lives easier.
We want to over-deliver every single time.
We do that by listening to shop owners, understanding their pain points and developing solutions that help. We also do that by staying ahead of technology's cutting edge.
Before Bolt On's Mobile Manager Pro tablet-powered software module hit the market mechanics didn't realize they needed digital functionality, or the ability to meet customers at their vehicle to begin paper-free multi-point inspections. But, now that they have it, shop owners tell me it's hard to imagine living without it. For them, returning to pencil-and-paper inspections would be like buying a VCR instead of a Blu-ray player.
Our mobile product revolutionized how data is collected. And that is only the beginning. We want to continue pushing the technological envelope, introducing new software that saves shops time, boosts efficiency and profits and continues to improve upon the customer experience.
In the throes of the economic recession shop owners I regularly met with were seeking ways to overcome deep revenue losses and tight profit margins. None that I talked to asked for the ability to conduct digital multi-point inspections, or scan and decode a license plate. But, their struggles were synonymous with many of the time-saving functions inherent in our mobile software. Saving time (and increasing productivity) translates to higher profits because we all know that time is money. If you have the tools to receive customer approval for work authorization in 2 minutes – instead of an hour plus – techs no longer have to remove vehicles from lifts … only to add them later when the customer calls back.
Developing software solutions that encompass auto repair best practices is a big component in my company's future endeavors. In order to create solutions which improve shop operations, I need to stay ingrained in the shop atmosphere.
My initial entrance into the automotive software solutions world may have been by accident, but my sleepless nights laying the groundwork for BOLT ON TECHNOLOGY and my continued passion and drive ensure that I'm in it for the long haul.
I look forward to sharing my story (and demonstrating our mobile technology) at a Philly New Technology group meetup on Wednesday and hopefully many more speaking engagements in the future.
To learn more about BOLT ON TECHNOLOGY visit us at www.boltontechnology.com or call 610-400-1019.