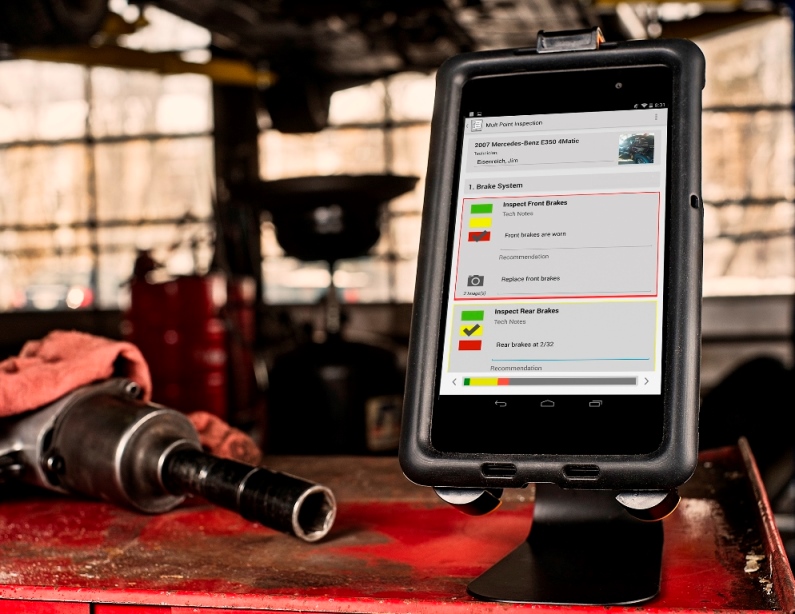 Overwhelmingly, auto repair shops are removing the guesswork from handwritten vehicle inspections, repair orders and service recommendations through the use of automotive software designed to simplify processes, save time and boost productivity.
Below are seven fool-proof tips for using vehicle maintenance software to improve overall shop operations.
1. Scan VINs
Jotting down a vehicle identification number (VIN) is easy, right?
Sure. Getting each and every letter and number correct­ – and making sure it's readable – is something entirely different. Scanning a VIN eliminates the need to decipher messy handwriting, lessens the likelihood of mistakes and saves precious time.
2. Quickly review pending service recommendations
Our research has shown that nearly 75 percent of vehicles being serviced are having an oil change performed. More than likely, additional services or regular maintenance is also needed.
Shop management software alerts service advisers and techs to all pending services when a customer arrives. This technology maintains a vehicle service history and offers suggestions that are either pending since a past appointment or are due for regular maintenance.
3. Start repair orders and estimates on a tablet or mobile device
With wireless automotive software solutions, techs can meet customers at their vehicle and begin the digital inspection, repair order, or estimate process using a handheld device. Best of all, the process can conclude the same way it began – with a tablet or mobile device.
4. Build orders, create digital multi-point inspections with press of a buttonWireless software technology eliminates hard-to-read handwriting and speeds up the multi-point inspection and repair order process, allowing for more time to service additional vehicles. Without hiring more staff or adjusting work schedules, productivity, and, in turn profits, can be increased simply by incorporating innovative automotive software solutions.
5. Add photographs to each vehicle service recommendation
What better way to prove that a customer needs new brakes then to show it? Techs do this every day by taking multiple photos of vehicle conditions, underlining the need for recommended services.
Without the benefit of pictures, customers all too often believe that shops exaggerate the severity of service suggestions strictly to make more money. Showing a customer pictures can increase repair order revenue from 15 percent to 90 percent on average. It's much harder to refuse brake work after seeing the extent of the issue.
6. Text or email customers a vehicle diagnosis with images
Wireless automotive software with built-in text and email functionality enables techs to seamlessly send estimates, multi-point inspections, photos and more directly to customers. This speeds up customer approval times from the national average of one hour and 17 minutes to 37 minutes.
7.Use mobile technology that's fully integrated with your shop management system
Boosting productivity is possible simply by using wireless automotive software that automatically syncs data compiled from a handheld device into the shop management system effortlessly. This eliminates the need for double entries as is commonly the case with paper repair orders and handwritten inspection reports.
For more information on BOLT ON TECHNOLOGY's Mobile Manager Pro software solution, visit www.boltontechnology.com, or call 610-400-1019.