Google has been rolling out Mobile-first indexing and many webmasters received an email similar to the one further down informing them that this anticipated change is now here. But what does "Mobile-first indexing enabled" actually mean and what impact can it have on your website? 
First off, lets start with saying that nowadays, if your website does not render well on a mobile screen, it's time to update. It used to be OK to just design a website that looked great on desktop sized screens. Then, as time moved on with mobile phones gaining traction, there was a race to develop a "mobile-friendly" theme as an addition to a website, where a visitor who was browsing from a mobile device was redirected to a different and condensed version suitable for smaller phone screens. Today, it really is no longer optimal to have a different version for mobile screens and websites need to be fully responsive and adjust accordingly to the screen size they are being viewed on. Screen sizes are now categorized into mainly desktop, tablet, and phone, with variations of minimum and maximum screen sizes where your web designer can adjust elements to show and not show, depending on what type of device is being used to view your website. If you have analytics installed on your website, you have probably noticed a trend over the past few years where mobile screen sizes are picking up traction. In some cases we see it as a 50/50 split between desktop and mobile, some sites are even higher on mobile. So to not design a website with this in mind, is a mistake.
Google is now indexing and displaying search results differently, depending on how well your site is built for mobile screens. What they are essentially saying is that you may get different results when searching on Google from a smart phone then from a desktop and Google is going to rank websites that render well on smart phone screen sizes higher than those that don't. This is where all those outdated websites will start to lose organic traffic.
Here's Google's official statement from their email to some website owners and webmasters affected: 
Mobile-first indexing means that Googlebot will now use the mobile version of your site for indexing and ranking, to better help our (primarily mobile) users find what they're looking for. Google's crawling, indexing, and ranking systems have historically used the desktop version of your site's content, which can cause issues for mobile searchers when the desktop version differs from the mobile version. 
Here's the actual copy of the email that we received for our website: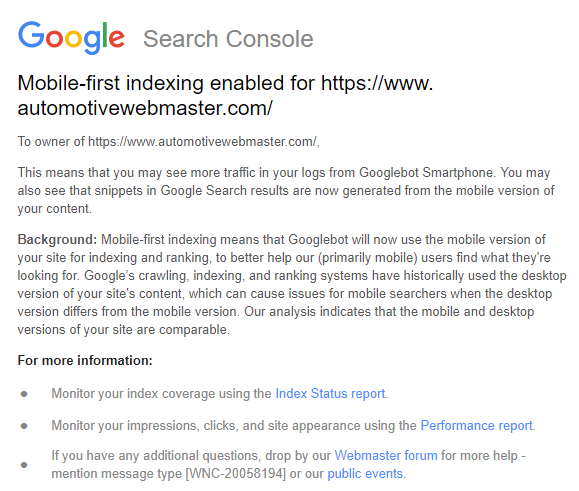 Google is now going to use your mobile site for ranking purposes and time is running out if your website does not have a good mobile version available. Fortunately for us, we are prepared and so is AutoShopOwner because we use responsive technology and coding that adjusts to screen sizes accordingly.
You can test out your website here: https://search.google.com/test/mobile-friendly
If your website isn't mobile ready, contact your webmaster and get it updated ASAP. If you need website services, you can reach out to us for a cost effective solution 🙂